Wolfchester 1L Pump Spray Bottle
or make 4 interest-free payments of $16.25 AUD fortnightly with
More info
SKU:

TAUS1LPUMP
Can't find what you are looking for?
Wolfchester Pump Spray Bottle - 1 Litre
Suitable for all Wolfchester cleaning products, including brake cleaner.
Pump action for easy pressure build up
Adjustable nozzle for direct jet and spray
Replacements available for O-Rings, nozzles etc
Streamline the way you work with Wolfchesters' high quality pump spray bottle. This spray pump bottle is designed for Wolfchester Brake Cleaner and a wide range of other solvent products. Featuring an ergonomic hand pump at the top to allow you to build pressure and an easily adjustable nozzle that allows you to quickly change between direct jet or mist spraying.
The Worlds #1 Spray Pump Bottle
Designed to be the very best in the world and manufactured from high quality materials in Germany, this refillable pump bottle easily meets GHS requirements. All the components and seals (o-rings, nozzles etc.) can be replaced if broken or worn and this product has an extremely long lifespan as it's manufactured with high-quality plastic by Germany's renowned specialist plastics manufacturer, Klager Plastic. This ensures our pump bottle is not only durable and but also leak-proof.
1 Pump Spray Bottle, Many Applications
Typically used in automotive and industrial applications, Wolfchesters' 1 Litre spray pump bottle has many uses including precision dispensing of fluids such as solvents, cleaning agents, lubricants and much, much more. Reduce waste and save time and money with this highly efficient, durable, ergonomic and practical product. As this is a refillable product with replaceable components that can be re-used many times, this is also a very environmentally friendly choice for your workshop, factory or garage.
If you have any questions about this product or our range of automotive and industrial supplies, please contact us anytime for more information. We offer free shipping on all orders over $50.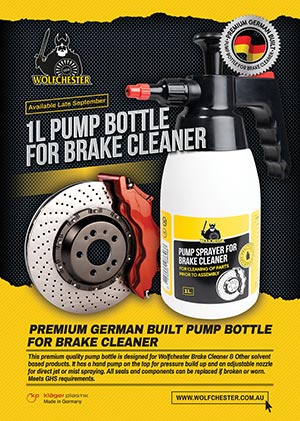 Same Day Shipping

Same day shipping applies to orders placed before 12pm during weekdays. We do not operate on weekends therefore your order will be shipped the next weekday. In some cases delays might be experienced due to stock backorders or issues out of our control. In every case we will endeavour to contact you with an updated ETA as soon as possible.

Shipping / Shipping Cost

Free shipping applies to orders within Australia when order value is over $50

Same day shipping on orders placed before 12pm, pending stock availability.

Flat rate shipping for orders in VIC, SA, NSW is $7.95 *When order value is under $50*
Flat rate shipping for orders in WA, QLD, NT, TAS is $9.95 *When order value is under $50*

Note - Some Heavy and bulky items may be excluded from Free Shipping & Flat Rate Shipping

Pick Up from Lilydale, Victoria
Pickup is available from our Trade Shop located at 4/122 Beresford Road, Lilydale, Victoria, Australia
For overseas shipping please contact us on +61 3 9737 2800